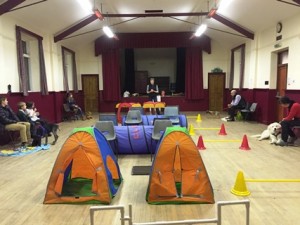 A variety of classes are run for all ages and abilities of dogs. The Puppy and Junior Classes are run regularly through the year and other courses and workshops are held according to demand. Occasionally I invite guest trainers or speakers to hold workshops or seminars.
For details of the different courses available, please follow the links below. For dates of forthcoming classes see the Events page.
Classes are run in a fun and informal way so that they are enjoyable for you and your dog. I only take a small number of dogs in each class so that you have more individual attention and classes are more relaxed which makes for a better learning environment.
Dogs attending classes must be comfortable in the company of other dogs and people. Sometimes classes do not provide the right learning environment for dogs that are particularly fearful, aggressive or bark a lot. It can be too stressful for them, so they continue the very behaviour you don't want, it's embarrassing for you and distracting for the other dogs and people. If you are not sure how your dog will behave in class please contact me to discuss. Individual help with one to one training initially can give you more effective advice and techniques to improve your dog's behaviour. It may be suitable to join classes at a later date.
Don't hesitate to contact me if you would like more details or a booking form. Book early to avoid disappointment!