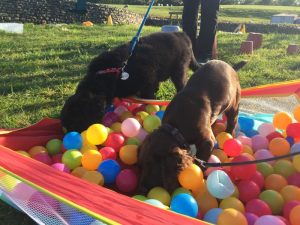 Tuesdays Evenings 7, 14, 21 August at Lane Farm, Crooklands (Westmorland County Show Field)
£10 per night – book any individual session or all 3.
Puppies (under 18 weeks of age): 6 – 7pm
Junior and Adult Dogs: 7.15 – 8.15pm
Come and have some quality time with your dog and have a go at fun activities. The evening will be very informal where you work your way round a circuit of activities. I'll be on hand to help out where needed. It will also be a social event with time for you and your dog to meet the other dogs and people. There's no better thing to do with your dog on a nice summer's evening!
Activities will include
Fun agility (low non-impact activities for puppies)
Sniffing and searching games
Obstacles for balance and coordination
Paddling pools
Bubble gun
Food puzzles
Toy Bag rummage
Trick training
and more….
The activities are suitable for all ages of dogs. Bring along your older dogs too, as long as each dog has an individual handler. No previous experience or particular level of training is required by the dogs. However all dogs must be comfortable in the company of the other dogs and people. Places are limited to just 6 dogs on any night. Please book ASAP to secure your place on the desired night.
I hope you can join us for some summer fun.