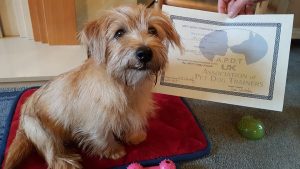 Our experience at Good Start Dog Training Puppy Classes in Castle Street Centre, Kendal, has been very rewarding for both us and our Norfolk Terrier puppy Rusty. The first thing that struck me about Sue and her training methods was that the emphasis of training is about building a good relationship with the dog based on mutual respect, trust and cooperation. This is such a refreshing approach to puppy training, creating a friendly partnership between puppy and their handler.
The structured progress through the six week course introduced us to a number of helpful aspects including puppy socialisation, handling of meetings with other dogs and with people, direction of puppy's attention to develop recall, loose lead walking, sitting on command and dropping unwanted things. Throughout the course Sue's very engaging and informative manner won the attention of puppies and their handlers alike – with great advantages for both as we saw results from the lessons applied within days. Sue also follows up her classes with an email refresher, is avaliable for any questions and also provides a link to a set of online video training sessions which are a great recap of the classes given.
I would strongly recommend to all new puppy handlers in the Kendal / Lake District area that they attend Good Start Dog Training Puppy Classes and that they book their puppies place early as the classes are small to allow for individual attention and are in great demand.
Titus, Wendy and Rusty