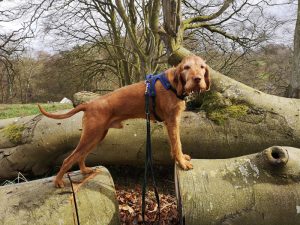 This is a 3 week course held on Thursdays, from 7th November, 7.15 – 8.15 pm at Preston Patrick Memorial Hall, Crooklands.
The course gives you and your dog an introduction to this new popular activity for dogs. It is all about dogs learning to interact with different objects in the environment by putting two paws or four paws on, going under, over, through or in, plus many other manoeuvres! Dogs love doing this sort of activity and it's great for building confidence, body awareness and coordination. Busy and lively dogs benefit from learning focus, calmness and steadiness with the activities. Working with your dog to build the skill and confidence with the movements and objects also helps your connection together. There will be the opportunity to work through the levels of the Dog Parkour UK scheme and earn yourselves titles and certificates if you want. Or just come along for the fun of it!
The course is suitable for dogs of all ages. Dogs attending should be comfortable in the company of other dogs and people.
The course costs £36.